Application:
Mobile sand making plant can be used in pebble,rock( the limestone, granite, basalt, aluminum, andesite, etc.), ore tailings, slags, artificial sand production. It is especially used to process raw material to excellent aggregate and sand for railway, highway, freeway and building construction.
Working principle:
This mobile sand maker is including hopper, VSI sand maker, vibrating screen , and conveyor belt.The power can be Electricity or diesel generator set, it reducing the cumbersome process of infrastructure installation and labor consumption, and truly provide customers with convenient, efficient, low-cost crushing equipment.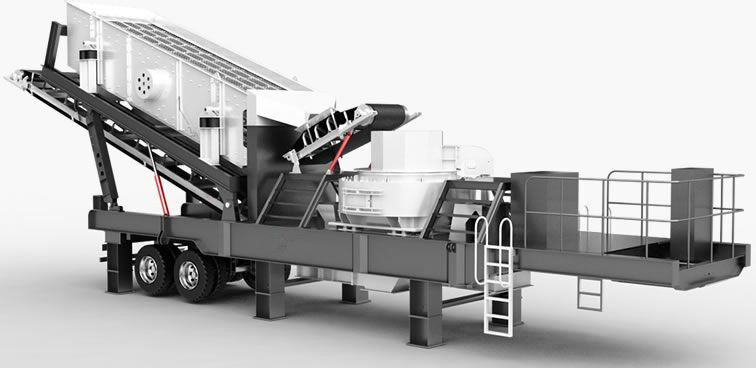 Advantage
Powerful crushing performance
Baichy jaw crushers are provided with high strength wear-resistance parts, even hardest rocks(400Mpa) are no problem for this type of crusher, double working life of the crushing jaw plates can be obtained by turning it, most effective utilization of wear parts.

Strong, durable, reliable, large loading capacity
Semi-auto mobile crushing station has high standard requirements on steel structure, for its stong loading capacity, adopt finite element analysis technology to equip every beam/bridge, the width of beam is at least 600mm, and the supporting legs height can be adjustable, adopt hydraulic controling parts. When the trailer moving, the tyre touch the land and legs will be lifted, while when the trailer fixed and working, the tyre will be lifted, and the supporting legs will be lengthen and support the whole plant.

Flexible configuration and great adaptability
According to the different requirements of different crushing process, Portable Crushing and Screening Plants can from the following two processes of "crushing first, screening second" or "screening first, crushing second". The crushing plant can be composed of two-stage plants or three-stage plants. The two-stage plants consists primary crushing system and secondary crushing system, while the three-stagesystems includes primary crushing plant, middle crushing plant and tertiary crushing plant, each of which is of high flexibility and can be used individually.

Automatic lubrication system
Hydralic oil is needed for the hydraulic system, it is not only used for the equipment components, but also for the trailer, it reduces the running and maintenance cost and supports operation the plant at low temperature.

Easy moving
Due to its stong structure, it can be transported on highway and moved between different crushing sites.
specification:
Model
PP5000VSI
PP5000VSI3S
PP6000VSI
PP6000VSI2S
PP7000VSI
PP7000VSIS
Transport size
Length(mm)
9800
11280
11500
15470
1100
15420
Width(mm)
2490
2780
Height(mm)
4200
2500
3850
4180
3820
4150
Alex weight(kg)
14600
19200
14000
22300
15000
21100
King pin weight(kg)
7000
8800
6000
10300
8200
11500
Vertical shaft impact crusher
Model
VI-5000
VI-5000
VI-6000
VI-6000
VI-7000
VI-7000
Max input size(mm)
65(80)
65(80)
70(100)
through-put capacity(t/h)
80-150
80-150
120-250
120-250
180-350
180-350
Vibrating screen
Model
3YK1545
2YK1860
YK2160
Belt conveyor
Model
B650X6.5m
B800X7.2m
B800X6.7m
B1000X8.6m
B1000X6.4m
B1000X8.6m
Alex number
1
2
2
2
2
2
Maybe you are interested in