Application:
Mobile crusher is mainly used in hard rock crushing ,aggregate production , outdoor mining crushing,construction waste recycling, cement production and tunnel crushing.
Working principle:
Equipment consists of: vibrating feeder, jaw crusher, or deep cavity "stone at stone" impact crusher, vibrating screen, foldable belt conveyor. To meet customer's high standard demand, it also can be equipped with cone crusher, sand making machine, or dust removal equipment.
Process: raw materials are fed on to feeder by excavator or wheel loader,then evenly and continuously conveyed into jaw stone crushing equipment for primary crushing. The crushed stone materials are conveyed to secondary stage crusher by belt conveyor for secondary crushing before they are sent to vibrating screen to be separated. After separating, qualified materials will be taken away as final products, while unqualified materials will be carried back to the stone crushing equipment for recrushing. And customers can classify final products according to different size ranges. According to different requirements, customers can adjust the size of their final products from this stone crushing plant. Clients will get the satisfactory products after objects being crushed for several times.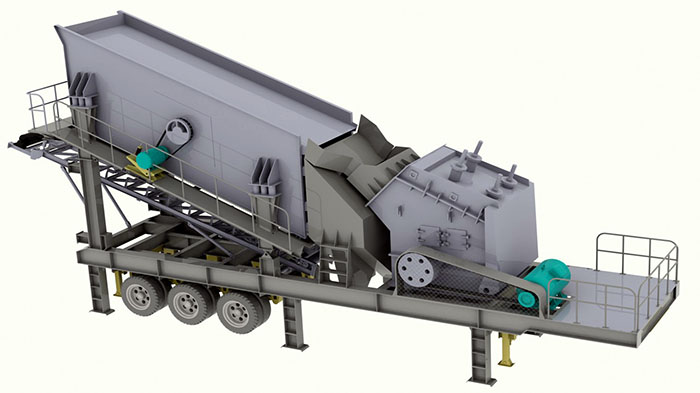 Advantage
1. Incorporated design. It has high standard requirements on steel structure and high strength wear-resistance parts to crush even hardest rocks(400Mpa)
2.Truck mounted and easy to move. Due to its stong structure, it can be transported on highway and moved between different crushing sites.
3. With support legs on truck,quick to set-up. The supporting legs height can be adjustable, adopt hydraulic controling parts.
4. Automatic lubrication system. It reduces the running and maintenance cost and supports operation the plant at low temperature.
5. Flexible configuration and great adaptability
specification:
SMC Impact crusher
SMC1010PFS
SMC1210PFS
SMC1214PFS
Transport size
Length(mm)
10800
12200
12500
Width(mm)
2480
2743
2900
Height(mm)
4170
4200
4200
Alex weight(kg)
15900
17200
22100
King pin weight(kg)
11300
14300
17500
Impact crusher
Model
PF1010
PF1210
PF1214
Feed opening(mm)
400X1080
400X1080
400X1080
Vibrating screen
Vibrating screen
Model
4YK1235
4YK1545
4YK1548
Maybe you are interested in