Calcite, one kind of calcium carbonate material, is existed in nature. It has low production cost and high industrial processing value. The finished fine powder is widely used in glass, ceramics, construction, chemical industry, light industry and other fields.
The renewed importance of calcite powder makes more and more people come into this calcite powder industry. How to configure the production line equipment of calcareous powder with a daily production capacity of 500 tons? How much is the investment? Baichy machinery, as an experienced manufacturer of grinding equipment in the industry, will solve doubts and give solution for everyone.
Calcite ore, generally the finished fine powder is 40-800 mesh,raymond virtical roller mill is just right. And raw calcalite material lump is large, it can not directly into the material grinding, so first through the jaw crusher simple crushing, at the same time need to be equipped with the corresponding electromagnetic feeder, bucket elevator, powder separator, dust removal equipment. Process is including:
1, crushing: raw calcite ore goes into the jaw crusher preliminary crushing, in order to reach the grinding size.
2. Grinding: The broken calcalite is fed into the silo from bottom to top by the bucket elevator, and then evenly fed into the vertical roller grinding mill by the electromagnetic feeder for grinding and processing, and the output particle size is adjusted according to needs.
3. Powder selection and collection: The powdered calcite powder needs to be further graded by thepowder classifier to obtain the finished product calcite powder with higher purity and more in line with the standards, and then the finished product can be uniformly packed.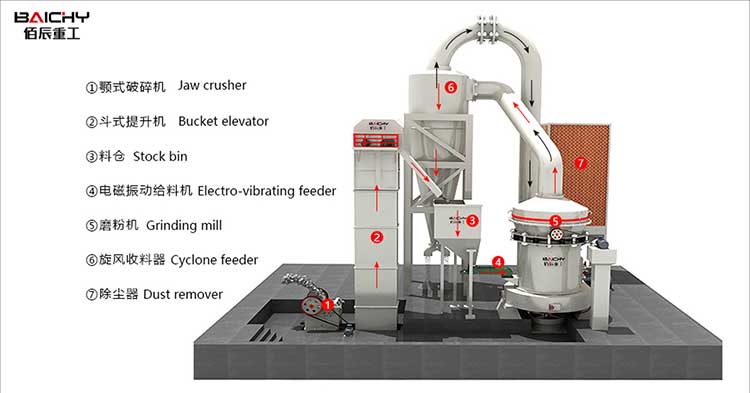 What is the investment of a calcite grinding production line with a daily production capacity of 500 tons? Here to remind users, it is important is to choose the right equipment manufacturers, choose more appropriate equipment, design more scientific production line. Welcome to inquiry Baichy Machinery anytime.