Sand making plant process introduction:
Sand making plant mainly composed with vibrating feeder, jaw crusher, VSI sand making machine or fine sand crusher, vibrating screen, sand washer, belt conveyor and electrical controlling system. Different capacity, such as 50-500t/h could be verious configuration . For different requirements on finished products sizes also can equip with cone crusher, fine sand recycle machine and dust remove system.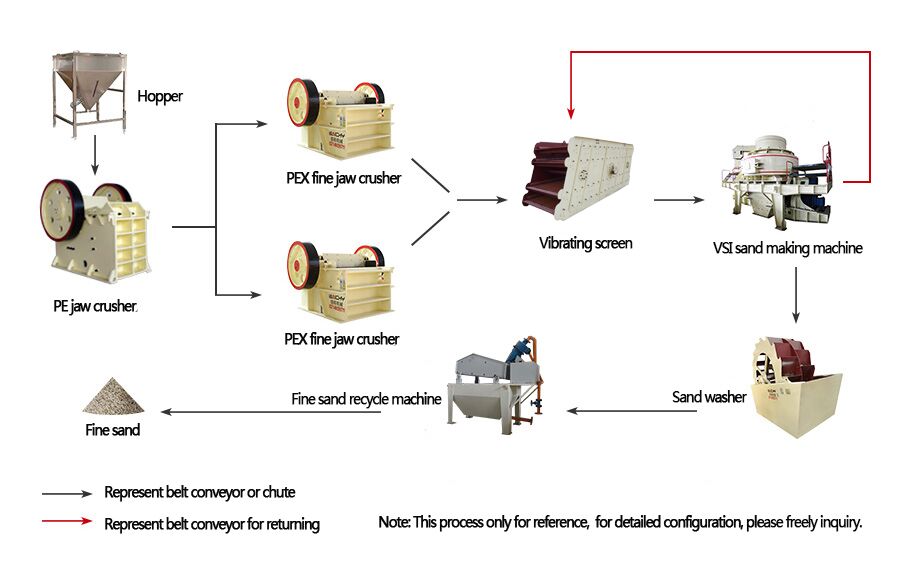 Raw materials are evenly and continuously conveyed into jaw stone crushing equipment for primary crushing. The crushed stone materials are conveyed to VSI sand making machine by belt conveyor for secondary crushing before they are sent to vibrating screen to be separated. After separating, qualified materials will be taken to sand washer, after washing then convoyed by belt into finished products pile, while unqualified materials will be carried back to the VSI sand making machine for re-crusher. Finished products can be classified into different sizes according to customer requirement.
specification:
Maybe you are interested in