Powder grinding plant process introduction:
Grinding system composed with jaw crusher, bucket elevator, electromagnetic feeder, grinding unit, blower, analyzer, cyclone powder collectors, bag filters, pipes and electrical cabinet parts. According to customer demand can adopt Raymond mill, YGM high pressure grinding mill, , HGM micro powder grinding mill, MFW Euro grinding mill.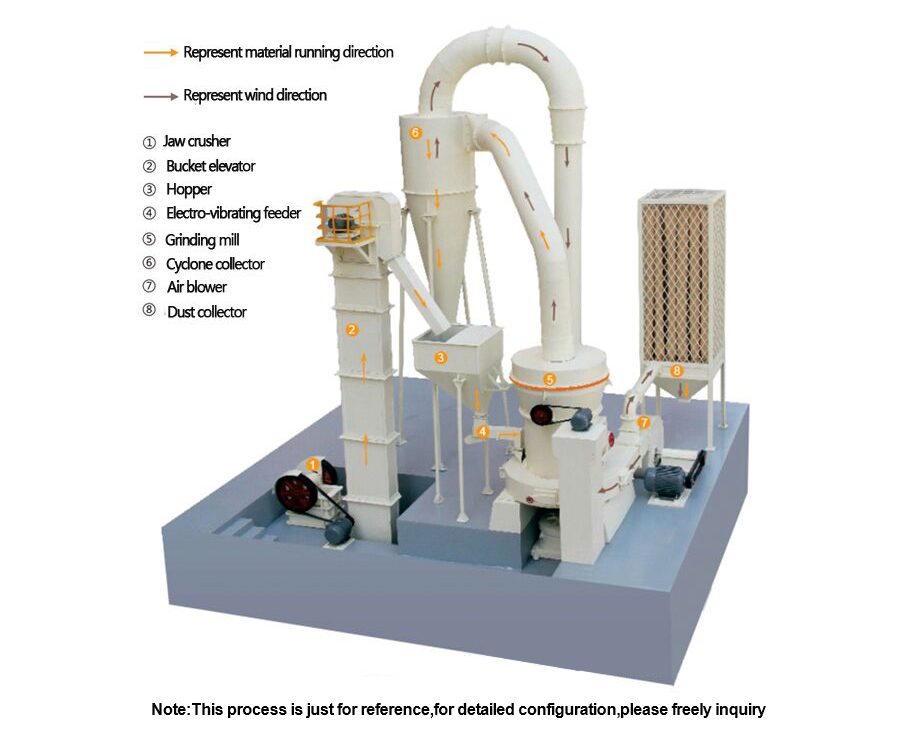 Raw material is crushed by jaw crusher then elevated into a hopper by bucket elevator, through the electromagnetic vibrating feeder evenly and continuously into the grinding chamber for powder-processing. Finally powder enter into analyzer for separating under the function of blower, qualified fine powder go to cyclone collector and discharged from pipes into storage silo, unqualified powder drop back into grinding chamber for re-grind.
Whole process is under negative pressure formed closed airflow loop. Cyclone collector bottom equip air-valves, isolated outside air from inner air, increase grinding efficiency heavily. Besides, few dust and air going up to dust collector for pure, filter, more friendly for environment.
specification:
Grinding mill
YGM75
YGM95
YGM130
YGM160
YGM190
↓Relative equiments
Capacity →
0.8-1.5t/h
2.5-4t/h
4.5-7t/h
7-11t/h
11-15t/h
Grinding mill Power
Main Grinder
18.5
45
90
132
185
Blower
15
37
90
132
185
Classifier
2.2
5.5
7.5
15
22
Jaw Crusher
Model
PE150X250
PE200X350
PE250X400
PE250X750
PE250X750
Power(Kw)
5.5
7.5
15
22
22
Input size (mm)
≤130
≤150
≤210
≤210
≤210
Output size (mm)
15-45
15-55
25-60
25-60
25-60
Elevator
Model
T210
T210
T250
T315
T400
Power(Kw)
3
3
3
4
4
Feeder
Model
GZ-2
GZ-4
GZ-4
GZ-5
GZ-5
Power(Kw)
0.15
0.45
0.45
0.65
0.65
Silo
According to the actual situation,we will guide to make.
Maybe you are interested in