Ball mill grinding plant process introduction:
The production line mainly includes: 1. jaw crusher, 2. hammer crusher, 3.elevatorⅠ(or weighing belt conveyor), 4. transfer hopper, 5.electromagnetic feeder, 6.ball mill, 7.elevatorⅡ, 8.Classifier ,9.ElevatorⅢ, 10. Pulse Bag Filter, 11. high pressure fan ,12 air compressor ,13 .muffler, 14 pipeline and control cabinet and so on.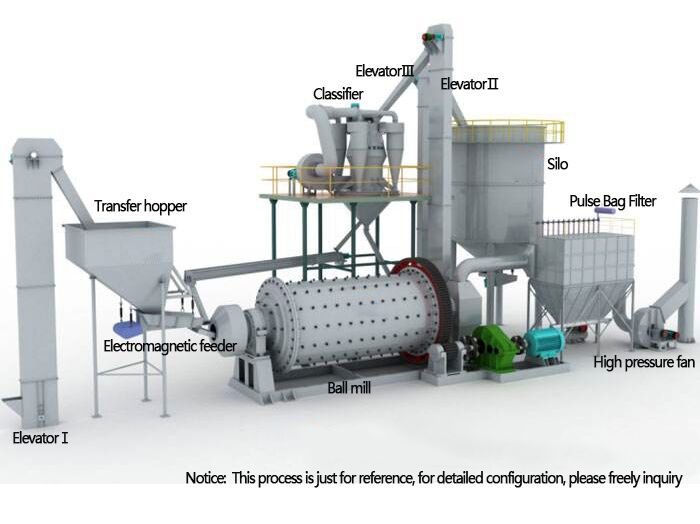 The raw ore after washing and drying (water content <1%), by the jaw crusher, hammer crusher coarse breaking into <2mm fineness particles. By the elevator transporting to the raw material storage hopper, by the weighing belt feeding system transported into the ball mill. The grinding balls inside the ball mill obtain huge impact force by the rotation of the mill, drop down and crush and grind materials into fine powder. After ground powder elevated by the bucket elevator Ⅱ into Classifier for first separating, most of the coarse particles are separated,the fine powder with a small amount of coarse particles go up along with airflow to top of vortex classifier, qualified fine powder through cyclones be collected by product elevator and dust collector, coarse powder drop down and discharge from classifier bottom, then transported by screw conveyor into ball mill for grind again, The whole process is under negative pressure state ,form closed circular system.
specification:
Maybe you are interested in